Graduation Party
This young girl is Julia. She's a hero of the video, filmed in June, 2001. Julia's haircut was done at the unforgettable day for all pupils, a few hours before the Graduating Party.

School days are over... Whole life's ahead... Adult life...

Maybe, the beginning of a new period of life was a reason for a major change in Julia's image. And what else can change girl's style fast and easy, if not a haircut?

That morning Julia's friends saw her at the school for the last time with ponytail and sport-style clothes.

At the evening all her classmates and teachers was shocked, when a pretty young Lady said them: "yeah, yeah, it's me - Julia!!!"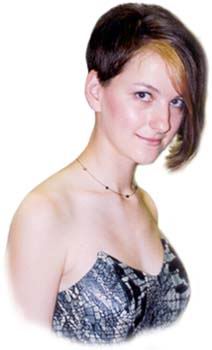 * © Please don't copy and share outside this site any video clips with "hairworld.ru" logo without my permission!
.